GEOCOMS
Explore the scenic spot by driving like a go-kart

Attraction
Explore the scenic spot while enjoying a refreshing feeling like riding a go-kart!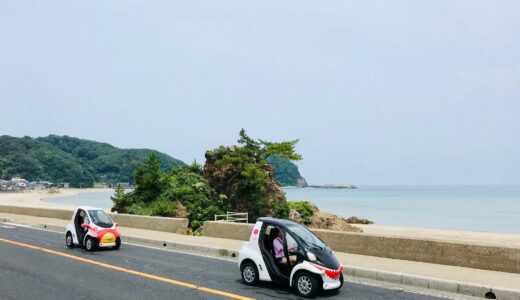 Enjoy the beautiful scenery with feeling of openness while feeling the sea breeze and sound of waves. GEOCOMS is an unprecedented sightseeing service that you can enjoy an ultra-small electric vehicle. The body is compact, but the maximum speed is 60km/h. You can hold the steering wheel and drive while enjoying the beautiful scenery to the fullest, being a part of nature. Pop and cute wrapping modeled on the sea creatures of the San'in Kaigan attracts attention from the roadside. Drive easily with audio navigation through bone conduction headphones are available for first-time users and tourists from abroad. Audio navigation navigates directions and also give you the tourist information to enjoy a detailed local trip.
*Japanese ordinary driver's license or international driving permit is required.
Don't miss other tourist attractions and the superb views around the Tottori Sand Dunes!
The Tottori Sand Dunes are part of mthe San'in Kaigan Geopark, which is also certified by the UNESCO Global Geopark, and there are many popular spots in the area, including valuable topography and geological heritage.
After visiting the Tottori Sand Dunes, you can make a side trip to the Uradome coast in the east, where the rocks eroded by the rough waves of Sea of Japan, the white sand beaches with pine trees surrounded by capes, and the emerald green sea boasting transparency of 25m. You can enjoy breathtaking views one after another. There are lots of highlights around the Tottori Sand Dunes, such as carpets of purple scallion flowers that can be seen on the east side (between late October and early November) and Tanegaike Pond with a mysterious atmosphere. If you drive with Geocoms, you can visit many spots from the Tottori Sand Dunes.

Contact / Application